(Photos by Kevin Howard) Before Andre Ward and Sergey Kovalev clash in the main event of Saturday night's PPV event, a two time Olympic gold medalist will be making her professional debut. Claressa Shields won gold in both the 2012 and 2016 summer Olympics and made history as she became the first American boxer to win a gold medal two consecutive times. Now the native from Flint, Michigan looks to carve out a successful career as a professional fighter as she steps into the professional ring for the fist time.
I had a chance to speak to Claressa Shields before her debut and got her thoughts on her opponent, Franchon Crews, who she fought in the amateurs. Claressa spoke about being featured on the undercard of a big PPV event and what she hopes to accomplish in her career as a pro. Additionally, Claressa Shields gave her thoughts on how she expects the fight to play out. Here is what Claressa Shields had to say.
Jenna J: Claressa, you are set to make your debut this Saturday, how do you feel about becoming a professional fighter?
Claressa Shields: I'm excited, but I'm pretty calm, I'm super excited to fight.
Jenna J: You're debuting on one of the biggest platforms that boxing has, a big PPV, how good is it for the sport of women's boxing that you are part of this event?
Claressa Shields: The thing is, I have been on a bigger platform than this, this is a huge platform for Andre Ward, this is my pro debut. This is not bigger then fighting in the Olympics to me, but I'm definitely excited to be here and I'm glad they put me on the card.
Jenna J: You are a two time Olympic gold medalist, how important do you think it is for women's boxing to have someone who is already a name coming into the sport?
Claressa Shields: That's definitely the answer, somebody that is gonna be loyal to the sport and somebody that is going to perform and have that great skill level when they enter inside the ring. I think that's going to be a great thing for women's boxing.
Jenna J: Your opponent, you are familiar with her, you fought her in the amateurs. Do you think she is going to be any different of a fighter then when you last fought her?
Claressa Shields: We have not fought each other in a year and a half. I've seen her fight, she's seen me fight, she can't beat me. I respect that she's taking the fight, shes not a walk over, she's not a push over, but it's definitely not going to be a fight where there's a upset.
Jenna J: What is your prediction for your fight this Saturday night?
Claressa Shields: I'm very hopeful for the full 4 rounds and get a unanimous decision or maybe I will go 3 rounds and get a knockout.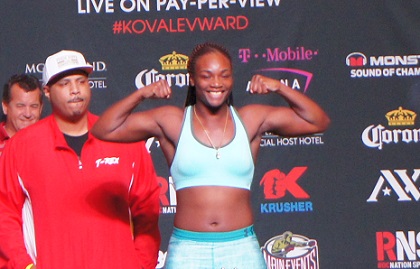 Jenna J: Do you see yourself as the female fighter that can bring the kind of attention where people will say, she is the face of women's boxing?
Claressa Shields: Definitely, that's why I wanted to go pro, I knew that I had the recognition and the respect of a lot of people. To go professional, to actually fight, that they would respect me and put me of TV, which they did exactly that and now we're here. I'm going to take full advantage of it.
Jenna J: The main event of the fight card you debut on has Andre Ward vs. Sergey Kovalev. Who wins?
Claressa Shields: Ward's gonna win. He is just a better fighter, he's more technically sound. Kovalev has the punching power, but people are forgetting about Ward's defense, so it's going to be a really good fight, but I got Ward winning a unanimous decision.
Jenna J: You have a lot of fans out there, any message you want to pass along to them?
Claressa Shields: Thank you guys for following me, tune in November 19th, T-mobile arena, I will be fighting at maybe 4:30 PM here, 7 PM eastern, make sure you guys tune in, watch fight.