(Photo by Kevin Howard) The House of Blues in Boston Massachusetts featured an exciting boxing card in front of a passionate crowd, many there to support their local fighters. The main event of the night saw Irish fighter, Gary "Spike" O'Sullivan battle Englishman Nick Quigley (15-3, 3 KOs) to a fourth-round technical knockout victory in the televised main event on Golden Boy Boxing on ESPN. 
 
The fight was a bit of a surprise as O'Sullivan and Quigley both came out swinging from the first bell and went toe-to-toe, with each fighter bloodied from the action. Quigley, having only 3 career knockouts, did not let that fact change his approach to the fight and actually rocked O'Sullivan with several heavy blows in the early action. Ultimately, O'Sullivan wore down Quigley, putting him on shaky legs in the 3rd and stopping him in the 4th round after a big right hand caused the referee to halt the bout.
"This is my seventh time fighting in Boston and it has truly turned into my second home, I really appreciate the opportunity," said O'Sullivan. "I was surprised by Quigley's power as he was very strong and delivered clean shots. It was a fight full of action. Quigley and I traded a lot of shots and that's the only way I could take the victory."
 
In the televised co-main event, Filipino Recky Dulay (10-3, 7 KOs) was rocked and knocked down several times by Dandan Zenunaj (14-3, 11 KOs) in a super featherweight battle that was scheduled for 10 rounds. The referee stopped the fight in the third round, awarding the technical knockout to Zenunaj.
(Photo by Kevin Howard)
 
"The win felt very nice as I felt strong, and I could have easily gone 10 more rounds," said Zenunaj. "I knew Dulay is a hard-puncher and that I had to watch his right, but I knew if I broke him down he would lose his power. So, I went to it and it was no problem. Thank you to Golden Boy Promotions for the opportunity and hopefully this is the first of many more fights." 
 
Also part of the evening's televised action, Brazilian Olympian Everton Lopes (6-0, 2 KOs) made his second 2017 appearance in the ring since returning from a layoff to battle Rafael Reyes (7-12, 5 KOs) in a six-round lightweight bout. The judges scored it a split decision victory of 59-55, 58-56, and 59-55, giving Lopes the nod as the winner after six-rounds.
 
"I feel good; I came well prepared and because of that I came out with the victory," said Lopes. "In each fight you learn more, but you have to keep working. I knew he would be aggressive and after two years without fighting and with this being my second fight this year, I did not like the judging that gave him two rounds, but that's the sport."
 
As part of the undercard live stream, Greg Vendetti (16-2-1, 10 KOs)scored a unanimous decision victory against Casey Kramlich (8-1-1, 4 KOs)in a scheduled eight-round super welterweight fight. Vendetti won with two scores of 80-72 and one score of 79-73.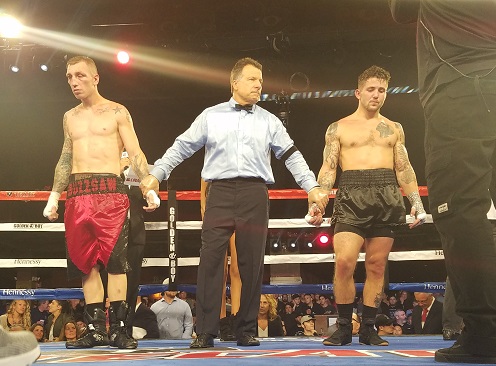 (Photo by Kevin Howard)
 
Raymond Moylette (6-0, 3 KOs)blasted veteran Michael Clark (44-18-1, 18 KOs) via second-round technical knockout in a scheduled six-round super lightweight fight. The Irish prospect was too much for the veteran Clark, forcing the fight to be halted at 2:49 of the second round.
 
Shayna Foppiano (1-0, 1 KO)made a successful professional debut as she scored a first-round technical knockout victory against Lamarya Geary (0-2) in a scheduled four-round super lightweight fight. Foppiano made quick work of Geary, stopping her at only 1:36 of the opening round.
 
Carlos Gongora (10-0, 8 KOs) scored an eight-round unanimous decision victory against Henry Beckford (6-7, 1 KO) in a super middleweight fight. Gongora won with scores of 79-73, 79-73 and 80-72.
 
In the first bout of the evening, Mike O'Han, Jr. (3-0, 1 KO) scored a technical knockout victory against Demetrius Thomas (0-6) at 2:47 of the second round of a scheduled four-round welterweight fight.