New York City (March 19, 2017) On Saturday night at The Mecca of Boxing, Madison Square Garden before 19,939 fans, Unified Middleweight World Champion GENNADY "GGG" GOLOVKIN, (37-0, 33 KO's) defended his titles in an epic 12-round battle against Mandatory Challenger, DANIEL "THE MIRACLE MAN" JACOBS, (32-2, 29 KO's) of Brooklyn, New York. Scores for the unanimous decision victory were 115-112 twice and 114-113.
In the co-feature, SRISAKET SOR RUNGVISAI (42-4-1, 38 KO's) upset WBC Super Flyweight World Champion ROMAN "CHOCOLATITO" GONZALEZ, (46-1-0, 38 KO's), in a hotly contested 12-round majority decision. Scores for the new champion were 113-113 and 114-112, twice.
HBO SPORTS will present the exclusive replay of both highly anticipated world championship title fights on World Championship Boxing, Saturday, March 25 at 10:00 p.m. (ET/PT).
GENNADY "GGG" GOLOVKIN
"I respect Daniel Jacobs; he did a very good job. He came back to fight after I knocked him down."
"I wasn't thinking that I needed the 12th round to win the fight. This was my first test at 12 rounds. I needed a quality fight, not just the 12 rounds."
"My goal is all the belts in the middleweight division, the WBO belt is the last step."
"I respect my sport, that's his problem for not doing the second day IBF weigh-in."
"He stayed southpaw so I used my right hand more."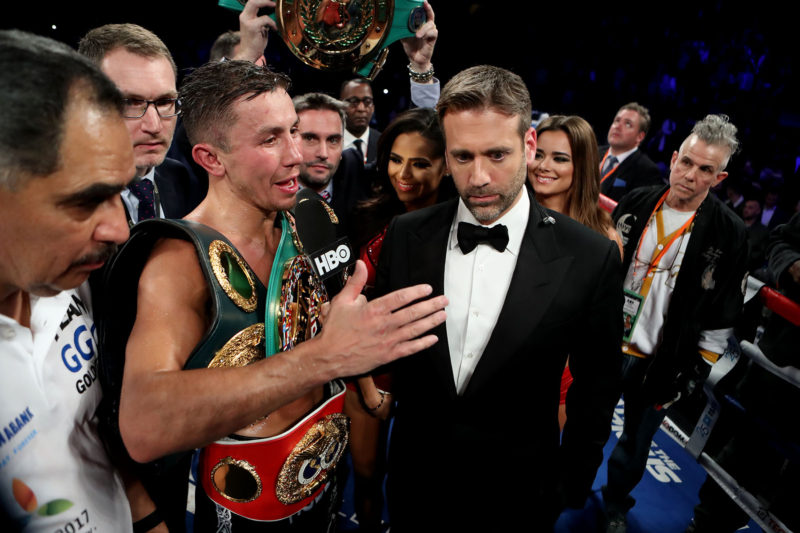 Photo: Tom Hogan/K2 Promotions
DANIEL JACOBS
"I think I won the fight by two rounds at least. I won the fight and I won the decision, and all I can do is be gracious in the decision."
"After the knockdown, I told him he'd have to kill me. There were many times during the fight I went toe-to-toe because I knew I could. I thought I won the fight."
"I am looking forward to the future I think I gained a lot of fans.  My style is good, I am a fan-friendly guy and I thought I won the fight."
ABEL SANCHEZ, Trainer of Golovkin
"We got the tough rounds in that we needed. I give Gennady a 7.5 or 8 out of ten. I'm happy with Gennady's performance and I'm happy the fans got to see a great fight."
"We were prepared with our sparring partners for when Daniel switched to southpaw and Gennady was actually more effective when he switched."
"The fact that Danny believed in himself and was prepared, we said the from the beginning he was a very good fighter, that's how these fights are going to be between two elite fighters. The fighter who adjusts the most is going to win the fight."
"Gennady's the same guy, he's getting a lot better and the opposition is getting a lot better."
ANDRE ROZIER, Trainer of Jacobs
"I'm very proud of my son Daniel, he fought an excellent fight. The fans really won tonight as well by seeing these two warriors and champions in the ring together.
ROMAN "CHOCOLATITO" GONZALEZ
"I'm a little dinged up but I thought I won the fight. I want an immediate rematch and to win my belt back."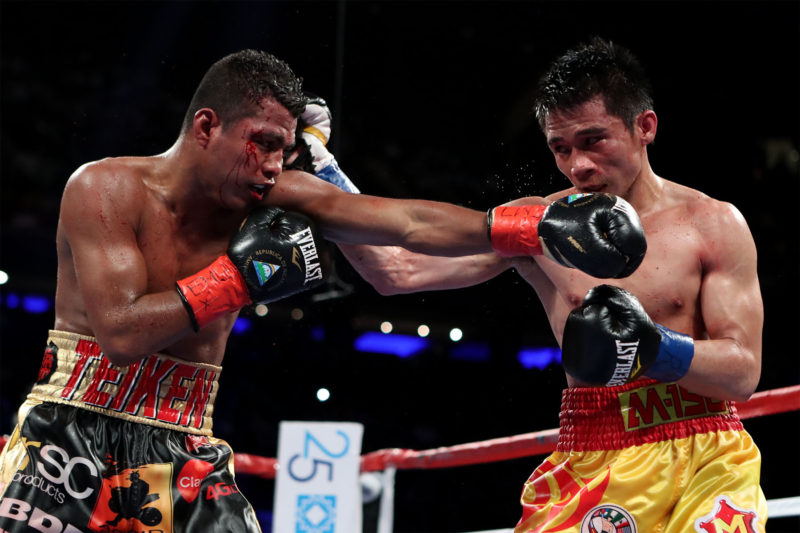 Photo: Tom Hogan/K2 Promotions
SRISAKET SOR RUNGVISAI
"I want to thank the fans in Thailand for sending me encouragement and I was able to do it because of all of their encouragement.  At this point, after winning this fight, I believe I can take on anyone, including a rematch with him.  I have to admit he is a very good fighter and he would not give up."
TOM LOEFFLER
"We knew it would be a tough fight. You can never overlook Danny Jacobs but Gennady welcomed the challenge to show where his skills were at. Maybe because he didn't knock out Danny, it will give some other middleweights motivation to get in the ring with him."
"The fans and the sport of boxing were the true winners tonight. All four champions in these two world title bouts fought as warriors showcasing how great the sport of boxing is."
"We always work to provide the best entertainment for fans in the arena and millions watching around the world at our events."
The Championship Event was presented by K2 Promotions.