(Atlantic City, New Jersey) – In a stunning turnaround, Eleider Alvarez (24-0, 12 KOs) of Montreal, Canada scored a seventh round knockout victory over Sergey "Krusher" Kovalev (32-3-1, 28 KOs) of Russia before a sellout crowd of 5,642 fans at the Hard Rock Hotel & Casino's Etess Arena. Alvarez now becomes the WBO and IBA World Light Heavyweight Champion.
Alvarez found success with his jab early in the fight, snapping Kovalev's head back at times. In the fourth round, Kovalev found his range and started strafing Alvarez with pounding head shots from right and left, with body work mixed in. Most other opponents would have withered under the assault, but Alvarez made it out of the round on his feet.
The pair continued to trade punches for several rounds. Two minutes into the seventh round, Alvarez, not previously known as a knockout puncher, delivered perhaps the single hardest punch of his life, a perfectly placed right to the head which threw Kovalev back onto the canvas. Kovalev beat the count, but as the final seconds ticked down, Alvarez knocked Kovalev down twice more, and referee David Fields ended the fight at 2:45 of the seventh round.
"I can't describe how I feel," said an elated Alvarez, thanking God and his entire team including trainer Marc Ramsey and promoter Yvon Michel, along with his family and the people of both Quebec and Colombia.
"I wanted to show him I'm strong, I have a good chin, and I'm ready for big things," said Alvarez. On the knockout blow, Alvarez said "We practiced that punch during training camp, and that's how it went … I always practiced that punch in training."
Alvarez, a native of Colombia, had waited on a title shot as the WBC mandatory challenger for three years. When offered, he jumped at the chance to face Kovalev, earning him tremendous respect. Now he sits at the top of the division. Asked if he'd like to face the winner of the co-main event, Dmitry Bivol, Alvarez said "I'm ready for the best in the world. I'm ready for the best in the division. I've been waiting for five years. I'm ready for anybody."
Speaking on Instagram from the back of an ambulance en route to a local hospital, an upbeat Kovalev reassured fans he was all right. "I am on my way to the hospital to check my head, check my body … I feel OK. Thank you everyone, thank you very much to all the fans around the world for your support. I love you, and I'm fine."

Photo Credit: David Spagnolo/Main Events
Dmitry Bivol (13-0, 11 KOs) of St. Petersburg, Russia showed he belongs with the elite of this competitive division. He retained his WBO World Light Heavyweight Championship belt over one of the toughest contenders in the division, Isaac Chilemba (25-6-2, 10 KOs) of Malawi. Scores were 120-108 on two cards, and 116-112 on the third.
Bivol came out aggressively, backing up Chilemba with snapping jabs, setting up an array of power shots. Chilemba, known for his fortitude as one of the toughest tests for any light heavyweight to pass, found himself battered by Bivol and trying to find a way past his defensive movement.
Chilemba has earned his reputation as a worthy challenger, and remained determined. In the later rounds, he adjusted to Bivol's offense, finding ways to score punches on the young Russian and slow down his offense. But in the end, Bivol's speed, power, and accuracy were too much for Chilemba.
"Chilemba is a good fighter, and he had champion spirit tonight," said Bivol. "He is a strong fighter. I want to fight more good fighters. I don't know who my next opponent will be.
"We will see what will happen … I just want to fight the best fighters."
Chilemba said, "I believe I won every round from the fifth. I pushed Bivol backwards and made him miss. I deserve a rematch."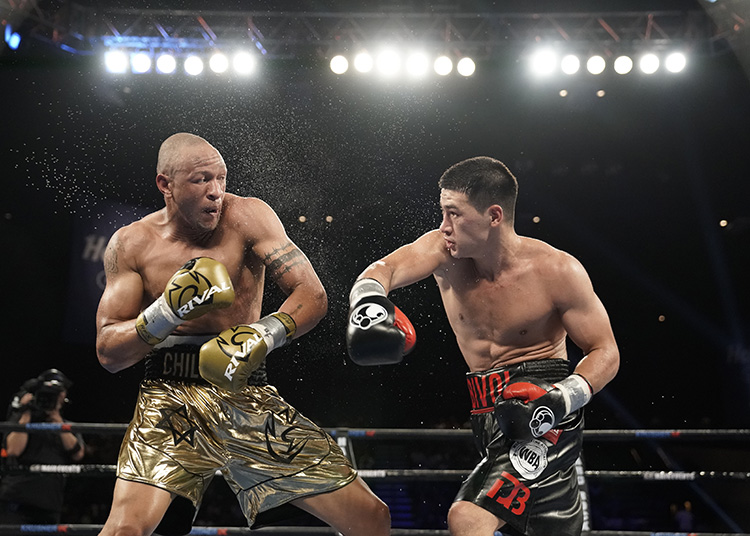 Photo Credit: David Spagnolo/Main Events
Meiirim "The Sultan" Nursultanov (8-0, 7 KOs) made it a quick night, needing only two rounds to defeat Jonathan Batista (17-15, 10 KOs) of the Dominican Republic. Batista's corner called an end to the fight after the second round, following a tremendous headshot by Nursultanov at the end of the round. While it did not cause a knockdown, Batista had already taken enough punishment through both rounds for his team to protect their fighter.
Despite the victory, Nursultanov wanted to put on more of a show. "I didn't like that he quit. I wanted a real knockout, so it is not how I planned." Nursultanov said he had a solid five weeks of training camp and "I was ready, 100 percent." To his fans, 'The Sultan' said "Thank you everybody, thank you Atlantic City. It's a very good place and I hope to come back here again."
Karl Dargan (18-1, 9 KOs) of Philadelphia launched his comeback after three years away from the sport with a unanimous decision in six rounds over Jonathan Perez of Colombia (37-23, 29 KOs). All three judges saw the fight as a shutout for Dargan with scores of 60-54.
Dargan took nearly three years off after his first loss in 2015, pursuing his interests in music and reality TV. Now back training under the respect Brother Naazim Richardson, Dargan thrilled his many fans in the Etess Arena.
Dargan said he was satisfied with the results after the layoff. "I mainly wanted to get the rounds in. There are a lot of things I saw that I could have done. But I didn't want to make no mistakes." Dargan said the win gives him new motivation going forward. "It was like a pro debut again. I'm going to stay ready, and stay in the gym. As long as I am healthy, I am going to keep moving."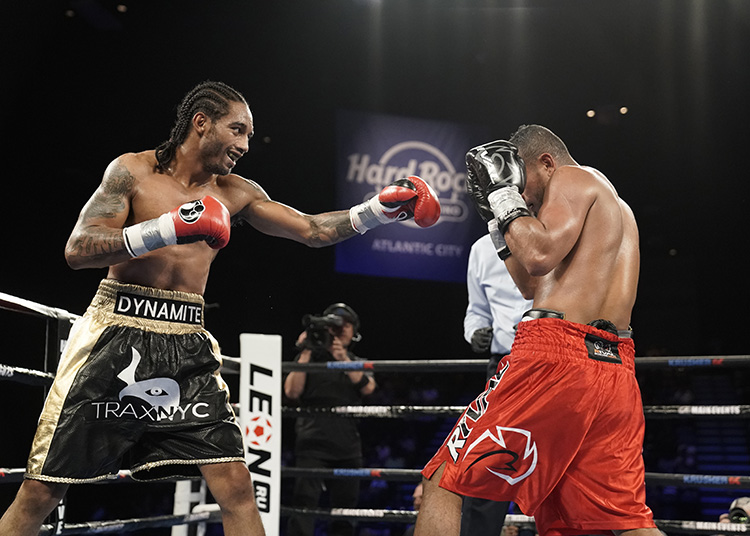 Photo Credit: David Spagnolo/Main Events
In a borough battle, Brooklyn native Frank "Notorious" Galarza (20-2-2, 12 KOs) blasted an overwhelmed Alex Duarte of New York City (13-6-1, 10 KOs) in a junior middleweight contest. The local hero dropped Duarte with a left hook to the body, then sealed the deal with another body shot at 1:57 of round two.
As referee Eddie Claudio counted Duarte out for the KO victory, Galarza repeatedly drew a finger across his throat, signaling the win to his many fans.
After the bout, Galarza reflected on the win. "I feel good, I feel like a rock star at the Hard Rock! There is always room for improvement."
Galarza was treated for a cut on top of the head after the bout. "I think he gave me a head butt, he gave me a little laceration on the top of my head. But we executed – you know, he was a little wild. We came in and stood tight, stayed low, and went for the body. We did the job, we took him out with a body shot."
Galarza said he has ambitious plans for his next fight. "I want to start getting some names, get some TV, some HBO. Let's start fighting someone big!"