There is an African adage which says that success has a lot of relatives while failure actually is an orphan. This could be seen in almost all spheres of human endeavor, especially when it comes to careers.
One of the names that have been on the lips of people across the world in the past month is Anthony Joshua, the young lad who defeated Wladimir Klitschko to win the world WBO championships, bagging a total of 19 knockouts in 19 fights. That was actually a victory that many boxing betting odds online never gave in his advantage. But he won and you know what they say about nobody believing you until you prove them wrong? That's very true here.
Now, he was a relatively unknown young British-Nigerian dude fighting the small names and defeating them until he did so to one of the biggest names. And now, a lot of information coming to the fore about his relationship with other great boxers.
Joshua was exchanging some form of barbs with Tyson Fury online as he was preparing for the match and after the battle was won, his former coach has come out to say some things we never knew about the duo.
It would be recalled that the last person to fight Wladimir Klitschko, the man that Anthony Joshua just defeated is the same Fury. Joshua on his own has described a fight with Fury in the future as the biggest fight there could be while taunting the former champ to get back to training so as to actualize the dream of having a fight between two of them.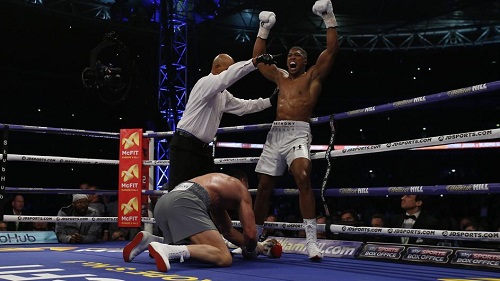 Joshua's former coach, Sean Murphy, has been described as the man that developed Joshua during the teenage years and gave him the foundation he is riding on with serious training at the Finchley Boxing Club
He came out last 3 weeks to posit that the Olympic gold medalist got Tyson Fury 'wobbled' at some point when they were secretly sparred at one of the boxing clubs in their vicinity in London as a preparatory class for Joshua.
Murphy said that while the secret sparring was on, Fury got so knocked that he took the ropes and he was trying to tell him to drop them. He later said that there was no other word to paint it but to say that the first round was won by Joshua and that he 'wobbled' Tyson.
He went ahead to say that when itly was time for the second round, Tyson went verbal in the bid to upset and destabilize Joshua. But all the while, the calm and recollected Joshua was just searching for the big punch. While he was doing this, Tyson had the chance to be picking him off.
He concluded his speech by saying that any arena in the world that holds a fight between the two will be completely sold out. For him, the match could better be described as a 50-50 thing and that it will be extremely difficult to say who would win or lose it. You actually need the best odds finder for this kind of match because you don't want to predict this tight match correctly and win a small amount.
Fury himself has also heaped praises on the talented young boxer while saying that it was true that Joshua out-boxed him during the sparring bout. He said that he was of the impression that he doesn't have to be so hard on the amateur boxer at the moment, but that the young chap came at him with a left hook that was followed by an uppercut. For him, he would have been sidelined for months if his chin were weak. Joshua according to him defeated him in three rounds, even as an amateur against a heavyweight.