Saturday's Manchester show may have had a World Heavyweight title fight at the top of its bill, but most fans didn't have that as their main topic of conversation afterwards.
Some were wondering just if Anthony Joshua can beat Wladimir Klitschko in April, a result you can currently get odds of 1/2 on at Betway. Most were still debating whether Dillian Whyte really deserved to get that points win over Dereck Chisora.
Although the British Boxing Board of Control had decided that after the pre-fight arguments, the fight wouldn't be for Whyte's British Heavyweight title, the belt would have been declared vacant if he'd lost. That so nearly happened in what was undoubtedly the fight of the night. Many feared that this might be another one of those occasions when Chisora talked a good fight and then stunk the house out with a negative display. Not this time, though. Many believe he should have been given the points verdict. Whatever the result, the former champion still has a future in the business, that's if he learns how to behave himself before stepping in the ring.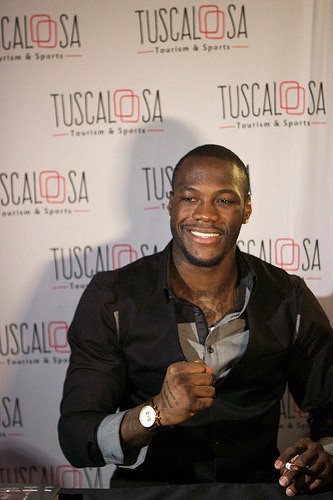 "Deontay Wilder" (CC BY-SA 2.0) by laytondudley
The fight may not have been for the British Heavyweight title, but it was still a WBC Eliminator, hence it being a 12-rounder. It's still not known when current WBC Champion Deontay Wilder will be fit enough to resume his career. There has been talk of a title defense against Hughie Fury in February of next year, just what that potential challenger has done to receive a title shot is beyond me. Wilder hasn't defended his title since January of this year. A little longer out of the ring, and the WBC might have to start thinking about an interim champion or even just stripping the American of the belt. If that was the case, then Whyte may be closer to a title fight than we think.
Rematch on the Cards?
So what next for Dillian Whyte? A rematch with Dereck Chisora has to be on the cards. After the excellent fight at the weekend, fans would be more than keen to see a repeat of that classic. It could even be a main event – but will Whyte want to put his world ranking on the line against an opponent he knows has a good chance of beating him and according to one of the judges on Saturday, did so? Whyte will hopefully have learnt a lot from the fight against Chisora. Another part of climbing up the ladder towards a world title fight.
David Price
Whyte is still British Champion and a tasty defence would be against Liverpool's David Price. The Scouser has been steadily rebuilding his career and a crack at the British title would definitely interest him. A chance to finally get a big win on his record after some disappointing defeats. With Price ranked just outside the top ten, it's another fight that would probably acquire WBC Eliminator status, but will Whyte take a risk against the big puncher?
European Title Shot
Back in the day,the path to a World title fight often included getting the European title belt around your waist. For Dillian Whyte, doing so might be a very important step. The European title is currently held by Bulgarian Kubrat Pulev, who also beat Dereck Chisora earlier this year. He's currently ranked number three by the WBC and recently defeated Samuel Peter. A match between Pulev and Whyte would surely be classified as a final eliminator for Wilder's WBC belt. Only Wladimir Klitschko has beaten Pulev and a win over the Bulgarian would propel Whyte into top contender status.
The future still looks bright for Dillian Whyte. Just that one defeat by Anthony Joshua who may well be a future opponent. Perhaps that might even be a bout for the Undisputed title? 2017 promises to be an interesting one for Whyte – whatever path he takes.