QUEBEC CITY (April 4, 2015) – The inaugural Premier Boxing Champions (PBC) on CBS card brought fight fans a very exciting afternoon of boxing matchups from Quebec City's Pepsi Coliseum. The main event featured Adonis "Superman" Stevenson (26-1, 21 KOs) in a thrilling 12-round unanimous decision (115-111, 116-110 and 115-110) win over Sakio "The Scorpion" Bika (32-7-3, 21 KOs).
The opening televised bout saw Artur Beterbiev (8-0, 8 KOs) in an impressive fourth round knockout win over Gabriel "The Handsome Man" Campillo (25-7-1, 11 KOs).
The telecast also featured highlights from Julian "J Rock" Williams (19-0-1, 11 KOs) win over Joey "Twinkle Fingers" Hernandez (24-3-1, 14 KOs).
Below are some notable comments from the televised fighters regarding their performance tonight:
ADONIS STEVENSON
"I worked hard to be able to go for 12 rounds. I dropped him twice. He's never been knocked out and I knew he'd come prepared to fight.
"I said I would be happy with a knockout or going the distance to get the win. So I'm very happy with how I fought today and with the result.
"Bika used his head a bit and tried to brawl, but I was able to control the fight. I knew he didn't just come to Canada for fun, but to win.
"Being involved with Premier Boxing Champions and fighting on CBS has been a great experience. This is fantastic for boxing and we're hoping more and more kids will start getting involved in the sport.
"As far as what's next, I'll wait and see what Al (Haymon) has for me. I'll be ready to go again by June or July."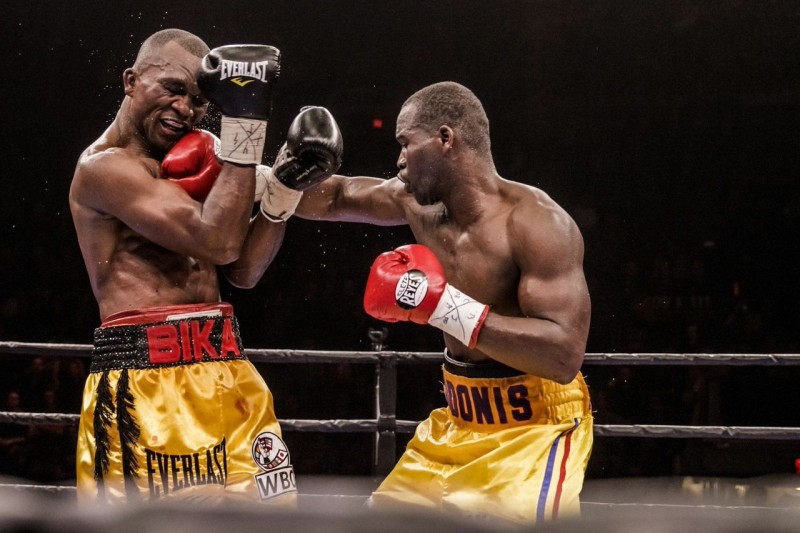 Stevenson vs. Bika
Photo: Amanda Kwok / PBC on CBS
SAKIO BIKA
"Adonis deserved to win this fight. I can't take anything away from him. He fought very well.
"I got caught with a right and slipped the first time I went down. When he caught me with the left and I went down later on it didn't really affect me that much actually. He's the champ though and he fought a great fight today.
"Fighting on CBS has been an amazing highlight for my career. I didn't get the win, but I put on a great fight for the public to see.
"For now, I'll head back home and enjoy my family. Then I'll see about another fight."
ARTUR BETERBIEV
"In this fight I was able to really show what I'm capable of and my experience paid off.
"When I watched footage of Campillo I noticed that he did a lot of running. I wasn't trying to be the aggressor. I just stuck to my game plan.
"I'm very happy to be on the big stage on CBS at such an early point in my professional career. This all came together very quickly and I hope to be back soon.
"We're planning to fight again in May and I'll leave whoever my opponent will be in God's hands."

Beterbiev vs. Campillo
Photo: Amanda Kwok / PBC on CBS
GABRIEL CAMPILLO
"I really wanted to push Beterbiev into the late rounds of this fight to see how he'd handle that, but I wasn't able to get it done.
"The most important punch was the first time he caught me in round one. After that shot I wasn't able to regain myself.
"I was thrilled to get this opportunity to fight on CBS. This PBC production was very nice to be a part of and I think the series will do a lot to help grow the sport.
"My plan for now is to rest. Then we'll revisit the situation and see about fighting again."
JULIAN WILLIAMS
"There was no underestimating Hernandez for this fight. We studied a lot of film on him and had a pretty good idea of what he would bring into the ring today.
"I thought that my jab and my movement were my two biggest strengths in this fight. Cutting off the ring was key.
"This PBC series and having the fights on a major network like CBS is huge for the sport of boxing. It's great to get into so many more homes, and I hope that it helps make the sport more popular. Hopefully this reaches those kids who can't afford premium cable and helps encourage more young kids to get into the sport.
"I'm not sure what's next. I'll wait for Al (Haymon) to let me know, but I'm really hoping for a shot at a top 10 fighter before the year's over."
JOEY HERNANDEZ
"Williams is probably the best fighter I've faced so far. He's not the hardest hitter, but he fought a very smart fight. He used his height and reach to keep me off my jab and stay out of my range.
"Unfortunately I had to take punches to give punches in this fight. When I got inside I was able to get my punches off, but I couldn't do enough to get the win.
"This was a great fight for the fans and fighting on CBS gave me a great opportunity for so many more people to see these fights.
"I'm still young at 30-years-old. I know I'll be back in the ring. I do this because I want to and I love it, not because I need to."